Parish: St. Landry Parish
Law Enforcement Agency: Opelousas Police Department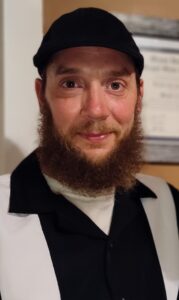 My name is Sheila Kautz. I'm giving my testimony because nobody should go through what I've gone through – legislation should be passed in Louisiana to give family the right to require autopsies in alleged suicide cases and people should have stronger rights to access police reports and other information about the death of their family members in such cases.
My son Jason Kautz was a true family man. He loved his girlfriend and their kids, was a skilled mechanic, and generally was an all-around good person. People were always reaching out to him for help when they had an issue with their car or truck, and we was always helping people out. In June of 2021, he was living in Opelousas, Louisiana, with his girlfriend and their children. On June 9, 2021, my son Jason lost his life while at his home. In the days leading up to the incident, I talked to Jason several times. He told me he was excited about an upcoming family vacation and he was working on framing a house. Jason also shared that he was planning to send out invitations for his wedding.
Around 2 am on June 9, I received the phone call no parent wants to get. It was Jason's girlfriend's mother on the phone. Jason had died. I was told that he had shot himself after getting into an argument with his girlfriend. When I was finally able to speak to the Opelousas Police Department later that morning, they told me that Jason had been taken straight to a funeral home, not the Coroner's office. Indeed, according to the reports I received, neither the Coroner or the Assistant Coroner even went out to the scene. Rather, the Assistant Coroner only examined Jason at the funeral home. In addition, when I spoke with the Assistant Coroner, he said Jason was taken to the funeral home because the Coroner's office doesn't have a morgue, and that the Coroner's office wasn't doing autopsies anymore due to COVID. Instead, the Assistant Coroner said he would go to the funeral home to take photos and draw blood for toxicology.
No further investigation was done into Jason's death as his death had been determined to be a suicide at the scene, without the Coroner or Assistant Coroner having viewed my son's body. It was and still is not believable to me that Jason would kill himself. I regularly contacted the Opelousas Police Department (the "OPD") and the Coroner's office to ask them to look into the circumstances surrounding Jason's death. Through those calls I learned the Coroner's office never sent the blood out for the toxicology tests and Detective Harris with the OPD told me that ballistics on the gun and bullets in the house would take years because they weren't a priority.
After getting nowhere with the OPD for several months, I hired a private investigator to look into Jason's death. I put in two different Freedom of Information Act requests to the OPD to request the police report, video, pictures, and other materials from the file. On multiple occasions, Detective Harris refused to provide the requested information. After going to the Chief of Police to discuss my concerns with getting the information, I eventually received from OPD a CD ROM that included the OPD's photographs of the scene. . I was too upset to view the pictures so I forwarded them to the private investigator that I'd hired. The PI said there were a total of 54 pictures: 50 pictures of my son's house, including the exterior and every room, and only four, identical, dimly lit and difficult-to-see pictures of my son's body. As the pictures were not comprehensive and the reports were still missing, the investigator wasn't able to give a definitive conclusion, but he was able to tell me that Jason's death appeared to be suspicious for a number of reasons. In addition, my understanding is that there was a video camera in Jason's bedroom, where his body was found, and the OPD states that it never requested or subpoenaed a copy from his former fiancée. I also contacted the coroner's office, who claimed they have no pictures at all because, the coroner said, the coroner's office view it as a closed investigation. This is shocking because the Assistant Coroner had told me he had taken photos of Jason's body at the funeral home. In addition, there have been many inconsistencies in the information I have received from the OPD and the Coroner's Office. For example, the type of gun that was used changed, according to the OPD, from a .22 to a .38 to, most recently, a 9 millimeter. How could this be?
It has now been over a year since Jason died. In that time, I've contacted Louisiana senators, the Governor, the Mayor of Opelousas, a newspaper reporter, and my own senator in Ohio. I've filed two complaints with the Louisiana State Police and was told that if it's a clear suicide then they don't have to investigate. I feel as though it is easier for OPD if they don't have a case to investigate so they were willing to write Jason's death off as a suicide with no investigation. Because of the inaction by the police department, I haven't been able to grieve or heal from my son's death. I haven't had time to think about anything other than the justice he deserves.
I want to know why Jason didn't deserve an autopsy or an investigation into his death. There is currently no statute that requires a parish to perform autopsies when a person dies. I want to see legislation passed in Louisiana that requires autopsies to be done when someone dies because information gathered in an autopsy helps to inform what happened when a person has died. Government officials shouldn't be allowed to make assumptions without backing them up. I also think people should have stronger rights to access information about the death of their family members – to ensure they can have access to all police reports and photos – where the state believes that cause of death is suicide. I want my family, including Jason's siblings, to be able to be at peace with his death. As long as we don't have answers, that won't happen.